ITV's new hit show Mr Selfridge has wowed audiences ranging from different ages and professions not just those with fashion insight. This portrayal of the man who started the multi-million retail business is played by Mr Jeremy Piven also well known as Ari Gold on the show Entourage.Well to say the least I was very impressed. It kept me intrigued throughout the whole of the juicy one and a half hours. I am excited to see how the rest of the show unravels. I encourage you all to tune in!
What is so special about Selfridges is that is has a very well balanced selection of delicate and detailed garments suited for any body type or style. I went on the website and found a bunch of dresses that I adore, especially for summer. The range of patterned fabrics makes it appealing to the eye and interesting to look at. Here are some examples.

Alexander McQueen Wool dress

Alexander McQueen Printed dress

Peter Pilotto printed silk blend dress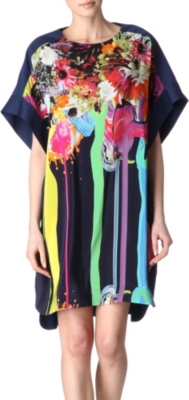 Preen Bondi oversized dress

House of Holland Stripe dress


Christopher Cane Pleated dress
And my favourite: The detail of the print is so exquisite, and lies so well on the body, all in all, a very well made garment.
Alexander McQueen Dragonfly silk dress